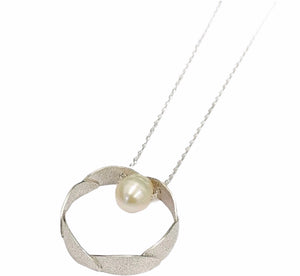 The Positano Collection is inspired by the unique Positano coastline, showcasing the contrast of two different forms: sea and mountains, which coexist in harmony. Pikaya used her signature texture to replicate this contrast in her designs.
Positano Necklace with vintage pearl is a handmade sterling silver contemporary design necklace. Circles are hand cut from a sterling silver sheet, textured, rolled through the rolling mill to create ellipses, and domed with a doming block. They are then hand cut to form the 'Luna di Positano' shape and soldered together.
With its modern design, this necklace is perfect to wear for any occasion. It is lightweight and comfortable. Each piece is designed and handmade by Pinar Kaya De Biasio.
Delivery time: 2 to 3 weeks
*As all products are handmade, sizes and colors may vary slightly.
*It will arrive in an FSC-certified eco-friendly gift box, ready to be gifted as shown in the pictures. A personalized gift message/card is also available.