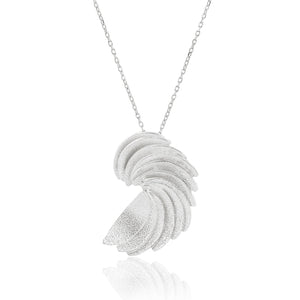 The Positano Collection is inspired by the unique Positano coastline, showcasing the contrast of two different forms: sea and mountains, which coexist in harmony. Pikaya used her signature texture to replicate this contrast in her designs.
Armadillo Necklace is a handmade sterling silver necklace. Circles hand-cut from a sterling silver sheet. Textured, rolled through the rolling mill to create ellipses and domed with a doming block. Hand-cut to form their shape and soldered together to be cast in silver. It comes with a sterling silver chain (45 cm).
With its modern design, it is perfect to wear for any occasion.
Materials: Sterling silver
Delivery time: Ready to ship!

*It will arrive in an FSC-certified eco-friendly gift box, ready to be gifted. A personalized gift message/card is also available.